Thanksgiving Decor
It's almost Thanksgiving! I love this day. I am so excited to be hosting family this year!
A friend recently said this was his favorite holiday. It really is focused on gathering, enjoying one another and eating! There isn't a lot of planning or fluff, it's just about gathering and enjoying each other. Which is exactly what I'm looking forward to!
This year, with my family here we are going to add an element of service. We will be helping out with Meals On Wheels, who is partnering with the food bank for this holiday. It will be so good to serve. I love opening our perspectives up, widening our view. It helps adjust how we see the world and can really increase empathy, gratitude, humility and love for others.
I will leave our kitchen and family room decorated for Thanksgiving until after the holiday.
Let's start here at my buffet. This seriously is one of my favorite pieces of furniture! I love decorating it and, even though I do have a bunch of storage in my kitchen, I still use this buffet for storage. What can I say, I have a lot of stuff! You can see the before and after of this fab piece in this blog post.
This year I decorated for Thanksgiving with blues and greens. I love the almost monochromatic feel. It's soft. There is enough color, though with the wood and small pumpkins, for this girl who craves color.
Those open lanterns were clearance finds at Target…#lucky! The pumpkins and greenery came from Marshalls and TJMaxx. The little sign came from JoAnns. And, that grateful sign came from The Christmas Tree Shoppe.
Here is more of the buffet.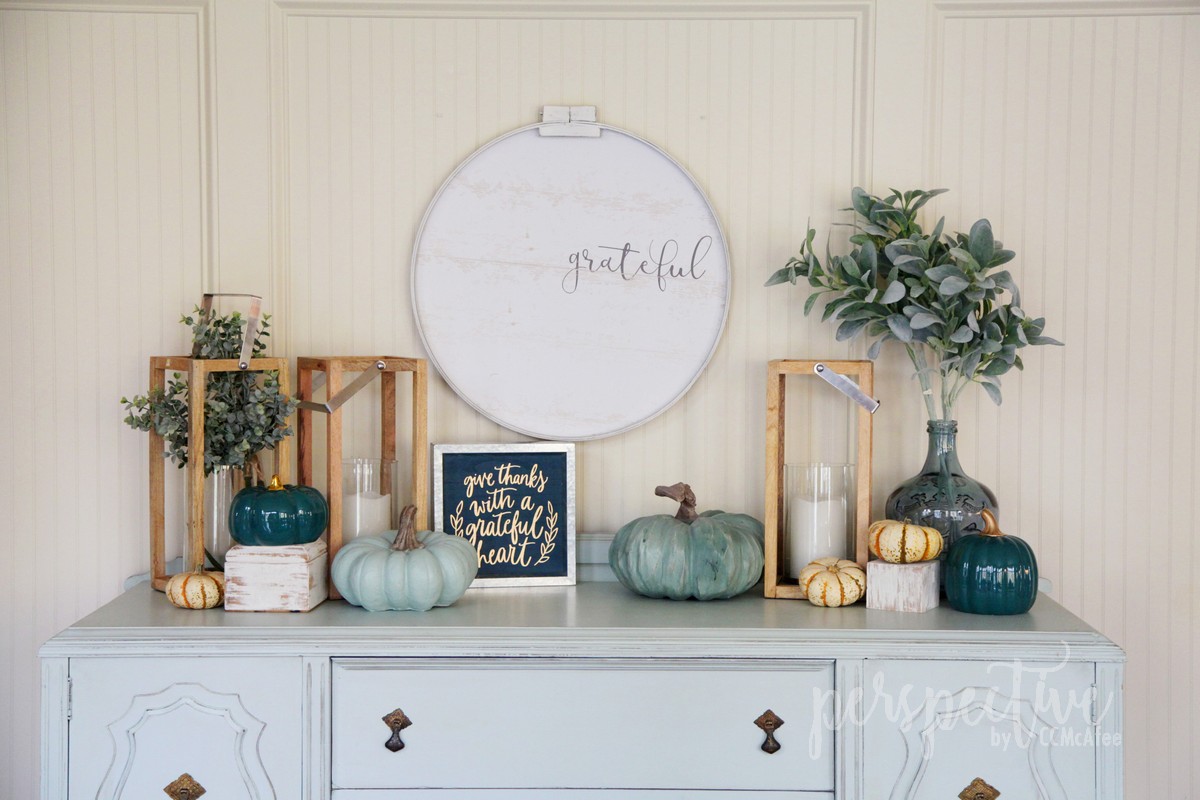 I started with a burlap runner, added my big pumpkins then the green garland through those. I added candlesticks and smaller pumpkins next, then added in baby's breath as filler at the end.
Again, I'm very happy with this color pallet. It has been fun doing something really different this year.
Last, here is a peek into my family room. I guess I didn't end up posting my fall décor :/ , it's mostly like it was last year. I just added in the wine color this year.
Here is a look at my mantle and my favorite chairs, at least!
There you have it! Just in time for Thanksgiving. Just in time to take it all down and do Christmas right? :)
Have a great day!